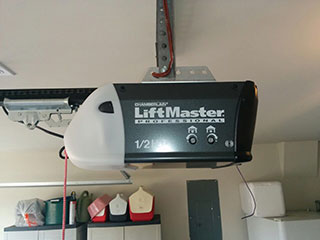 Is a LiftMaster garage door opener a good choice for you? Remember that your needs and requirements come first. The opener should have enough horsepower to lift the door, but not too much as this would result in energy waste, for example. The post will also give you a clear idea of some of the most popular accessories available like battery backup and smartphone integration. Check it out.
What are the signs of a well-functioning garage door? One of the most obvious indications is that it opens and closes smoothly but there are plenty of things that can prevent this from happening. Luckily, there are a lot of accessories that help improve the door's performance and one of them is the opener.
Liftmaster Opener
If you are going to install an opener for your garage, it's better to install one made from the Liftmaster brand as they are known to manufacture some of the best openers in the field. A lot of homeowners rely on this brand because their products are durable, efficient, safe, and highly regarded. Here are some of the products you can choose:
8550 Elite series - This model is equipped with a backup battery that allows you to control your opener even when there is a blackout.
3/4 HP AC belt drive garage door opener - This is one of the brand's industrial strength models. It is specifically designed for reinforced doors.
1/2 HP AC belt drive garage door opener - This model can be configured to your Smartphone.
Although these models are really efficient, you can also install some Liftmaster accessories so that the opener performs better, such as their keyless entry systems, remote controls, and electrical safety equipment.
Since there are so many products and accessories to choose from, we can advise you and help pick the one that is ideal for your home. If necessary, we are even willing to check your garage to help us determine the model that would best suit your needs and budget. We can install these products along with your garage door.
Better performance
Just because Liftmaster products are durable it does not mean that you can use them however you wish. Once your Liftmaster opener is installed, make sure it operates well and this can be done by maintaining it regularly. Once a year, lubricate it with a lithium-based lubricant so that it opens and closes the door smoothly. You should also make sure that nothing obstructs the rollers before lubricating it. Another maintenance measure to conduct is the balance and alignment test regularly. If the door is uneven, it can strain the working mechanism of the opener. Lastly, if it is broken, do not attempt to fix it on your own. In addition, do not to use the door until the problem is fixed. You can call us to repair the damage. We operate so you can contact us anytime.